Slow Cooker Honey Sesame Chicken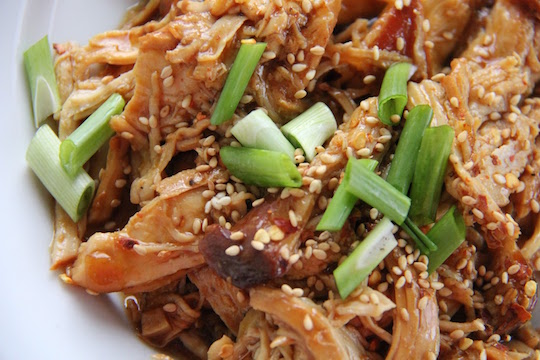 Healthy, delicious, and nutritious- my three favourite words when it comes to cooking.  This honey sesame chicken delivers on all counts!
Ingredients
1/2 cup honey (agave nectar is also suitable)
1/4 cup soy sauce
1 small onion, diced
1/4 cup tomato paste
3 tsp apple cider vinegar
1 Tbs vegetable oil
2 cloves garlic, minced
1/4 teaspoon red pepper flakes
6-8 boneless skinless chicken thighs
Salt and pepper
1 Tbs cornstarch (along with 1/3 cup of water)
1 tsp sesame oil
Sesame seeds
Chopped scallions, for garnish
*optional- add 1 tsp of Sriracha if you prefer your chicken to have a bit of spice to it.
Preparation
1. In the slow cooker, combine the honey, soy sauce, onion, tomato paste, vinegar, oil, garlic and pepper flakes. Mix well.
2. Season both sides of the chicken with lightly with salt and pepper and place in the slow cooker.
3. Cook on low for 3 to 4 hours or on high 1 1/2 to 2 1/2 hours, or just until chicken is cooked through and tender.
4. Remove the chicken from slow cooker, leaving the sauce.
5. Dissolve the cornstarch in 1/3 cup of water and pour into the slow cooker. Add in the sesame oil. Stir to combine with the sauce. Replace the lid and cook sauce on high for ten more minutes or until slightly thickened.
6. Shred the chicken into bite size pieces, then return to the pot and toss with the sauce before serving.
Sprinkle with sesame seeds and scallions and serve in lettuce cups. over rice, or noodles.
Serves 6
Enjoy,
Dr. Crysta Serné
Vancouver Chiropractor and owner of Vitality Clinic
Related Articles:
Parmesan Chicken Stoup
Cowboy Chicken
Chicken Stew
Chicken Tacos
Chicken Enchiladas
Chicken with Pecan Sauce
Chicken Soup
Chicken Parmesan