6 Ingredient Slow Cooker Chicken Tacos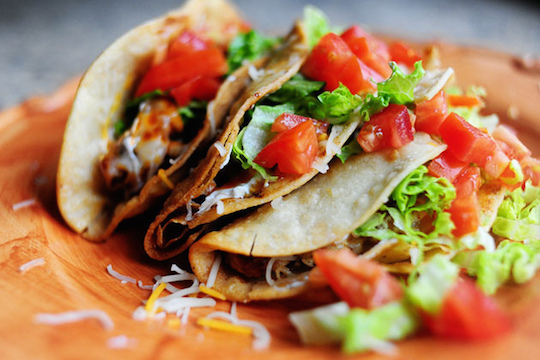 Another super easy, nutritious, and delicious slow cooker meal.
Ingredients
2 lbs boneless, skinless chicken thighs
1 (10 oz) can diced tomatoes
1 Jalapeño, diced*
1 tsp cumin
1 tsp garlic powder
Salt and pepper to taste
Desired tortillas and toppings (cheese, cilantro, lettuce, tomato, lime, sour cream, guacamole etc.)
*if you prefer a milder dish, de-seed the jalapeño prior to dicing it.
Preparation
1.  Place chicken in bottom of slow cooker.
2.  Sprinkle with salt and pepper (a couple pinches of each).
3.  Sprinkle with cumin and garlic powder.
4.  Top with tomatoes and jalapeño.
5.  Cover and cook on LOW for approximately 4-6 hours.
6.  Shred chicken using a forks to the consistency you desire.
7.  Additional salt and pepper to taste.
Serve chicken mixture over tortillas with desired toppings.
Serves 6
Enjoy,
Dr. Crysta Serné
Vancouver Chiropractor and owner of Vitality Clinic