Chicken Parmesan- An Easier and Healthier Version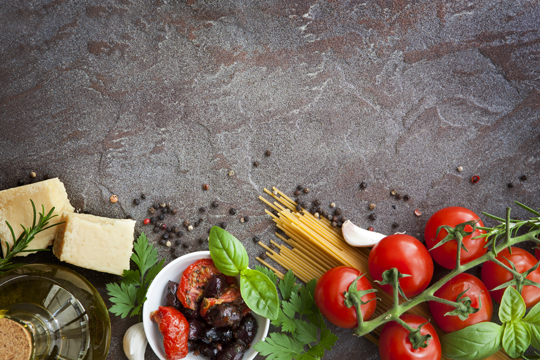 Most of my patients and staff know I love to cook, and often share recipes. Yesterday I was discussing what I was going to make for dinner and was asked repeatedly to write it out for people. I thought this may be an easier solution…..
Chicken Parmesan*
Cube about 6 bacon strips (lardons)- I buy my bacon slabs and then freeze them in their package. This allows me to easily cut perpendicular to the strip to make easy lardons.
Chop 1 medium onion and 3 garlic cloves
Cube a full chicken breast (both sides)
In a sauté pan on medium heat, add the lardons and crisp them up. Add the onion and garlic to the pan and sauté for about 3 minutes.
Add some red pepper flakes; this completely depends on your individual taste. I add about a tablespoon as I like my food a bit more spicy. Stir it up and the add the cubed chicken.
Cook for approximately 8 minutes (give or take how large you cut the cubes.)
Add a large can of diced tomatoes or about 4 chopped medium fresh tomatoes.
Add salt and pepper to taste.
Simmer until hot.
Pour into an oven friendly dish. Layer with about 8-12 basil leaves, and sprinkle with parmesan cheese. Finally, add a layer of shredded mozzarella cheese and broil until bubbly and golden brown.
This recipe typically serves approximately 4 people and I prefer to serve it in shallow pasta bowls.
Accompany with a side garden salad.
Enjoy,
Dr. Crysta Serné
Vancouver Chiropractor and owner of Vitality Clinic
*based on a recipe from Rachel Ray