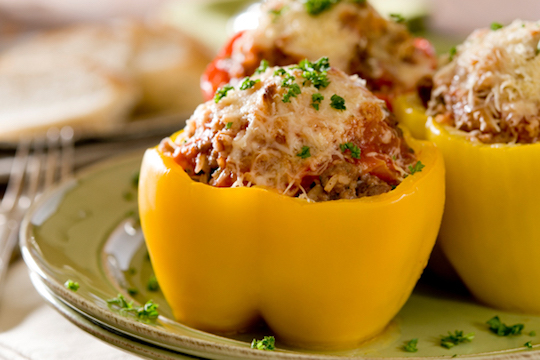 This delicious and nutritious meal is a fantastic alternative to "Taco Tuesday."  I love this recipe as you can prepare most of it ahead of time! Bake the peppers and make the filling up to a day in advance.  When it's time for dinner warm the filling, stuff the peppers, top with cheese, and bake.
Ingredients
4-6 Bell peppers
1 lb ground beef *
2 Tbsp Taco seasoning mix
1 medium yellow onion, diced
1 can drained black beans
1 cup cooked brown rice
1 cup frozen corn
1 jar medium chunky salsa
1 ½ – 2 cups grated Tex-Mex blend cheese
Optional: guacamole and sour cream to finish
*A vegetarian option would be to replace the ground beef with 3 cups cooked quinoa.
Preparation
1. Cut off the top and remove the seeds from each pepper. Place in a baking dish and bake for 20 minutes in a 350˚F (175˚C) preheated oven.
2. While the peppers are roasting, heat the oil in a large skillet over medium/high heat. Add the ground beef and taco seasoning. Allow the beef to brown on all sides.
3. Add the diced onion and continue to cook until softened. Reduce heat to medium.
4. Mix in the black beans, brown rice, corn, and salsa. Add in 1 cup of cheese and stir until incorporated and the cheese has melted. Remove from heat.
5. Remove peppers from oven and fill each with the taco mixture. Top with additional cheese and return to the oven for 15 minutes until the cheese has melted.
6. Optional- top each pepper with a generous scoop of guacamole and sour cream.
Enjoy!
Dr. Crysta Serné
Vancouver Chiropractor and owner of Vitality Clinic
*recipe adapted from Tasty.com
Related articles:
Taco Seasoning Mix
Guacamole
Mom's Taco Casserole
Chicken Tacos
Chicken Enchiladas