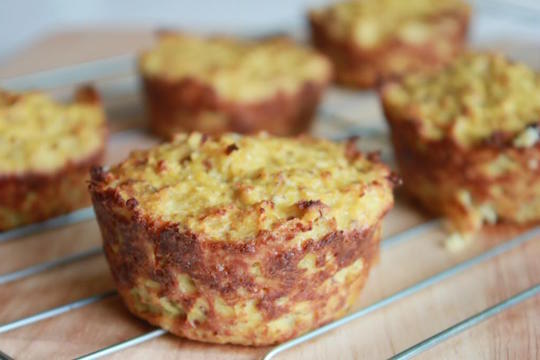 This makes for a great side dish or a snack for your little ones. It's packed with vitamin C, vitamin K, Vitamin B5, and B6.  Cauliflower is also a very good source of Omega 3 FA, fiber, and protein!
Ingredients
1 cauliflower head
3 garlic cloves, minced
⅓ c plain Greek yogurt
¾ c cheddar cheese, shredded
2 eggs
1 tsp salt
½ tsp black pepper
2 egg whites
Preparation
1. Preheat over to 400º F
2. Steam cauliflower for about 10-12 minutes on stovetop. Transfer to food processor, add minced garlic, and pulse until smooth.
3. In large mixing bowl beat 2 eggs. Add yogurt, cheese, pureed cauliflower, salt, and pepper.
4. In a separate bowl, beat egg whites until stiff.
5. Fold egg whites into cauliflower mixture.
6. Coat a mini muffin pan with cooking spray and fill cups to the top with the mixture.
7. Bake for 20-25 minutes, or until tops and sides are a golden brown.
Enjoy,
Dr. Crysta Serné
Vancouver Chiropractor and owner of Vitality Clinic
Related Articles:
Cauliflower Patties
Quinoa Broccoli Bites
Quinoa Pizza Bites
Vegetarian Chili
Chickpea, Vegetable, and Apricot Stew