Slow Cooker Baked Potato Soup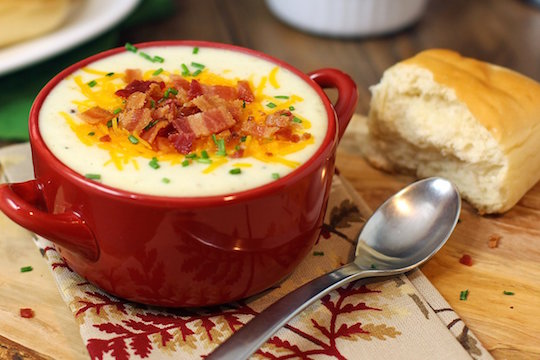 Some people like to give potatoes a bad name but they are actually very nutritious! They are chalked full of Vitamin B6, Vitamin B3, Vitamin C, potassium, copper, and fiber. Potatoes also contain a variety of phytonutrients that have antioxidant activity. Among these important health promoting compounds are carotenoids, flavonoids, and caffeic acid. Of course, the heavy cream is the one ingredient in this recipe you want to be watchful of, but they key to successful nutrition and meal planning is moderation. 🙂
Ingredients
4 cups peeled and diced Russet potatoes
1 small onion, chopped
3 cups chicken or vegetable broth
4 Tbs butter
¼ cup flour
¼ cup sour cream
1 ½ cups heavy cream (half and half will also work)
salt and pepper to taste
Toppings
bacon bits
grated cheese
green onions
Preparation
1. Add potatoes, onion, and broth to your slow cooker.
2. Cook on low 4-6 hours or until potatoes are tender.
3. In a medium saucepan melt the butter. Whisk in flour and cook until bubbly. Slowly add the sour cream and heavy cream and cook until thick. Add mixture to the slow cooker and mix together.
4. Cook in the slow cooker for another 20-30 minutes.
5. Serve into bowls and add toppings or you can choose to add the toppings directly into the slow cooker before serving.
Enjoy,
Dr. Crysta Serné
Vancouver Chiropractor and owner of Vitality Clinic