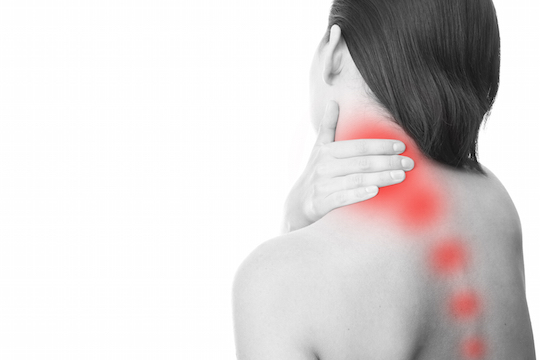 Neck pain or related upper-limb pain can be very disabling for active patients, young and old. The broad differential includes such conditions as strain, sprain, disk injury, radiculopathy, carpal tunnel syndrome, ulnar neuropathy, and degenerative shoulder disease. Approxiamtely 70% of diagnosis' can be made solely based on history and physical exam findings. It is essential to determine whether the pain is localized or radiating. Localized neck pain generally points to muscle strains, ligament sprains, and degenerative facet or disk processes. Pain that radiates into the upper limbs frequently stems from nerve involvement. Unless significant trauma has occurred, diagnostic images are not warranted unless they are likely to change treatment.
The typical active person takes neck movements for granted until pain limits activity. Fitness clubs and physical therapy facilities are filled with people striving to develop an increased strength and/or flexibility in their upper and lower limbs, as well as in the abdomen. Often the neck is frequently neglected when it comes to preventing and rehabilitating injuries.
The cervical spine is one of the key links in the kinetic chain of physical motion. It controls head movement and, therefore, a person's ability to direct his or her organs of sensation. When bone, muscles, or nerves of the neck region are damaged, activities ranging from sedentary to record-setting are disrupted. The chiropractor, therefore, must have a rational approach to diagnosing patients' common neck and associated upper-limb syndromes so that appropriate treatment can be initiated.
Muscle strains usually resolve within a few days to a couple of weeks, ligament sprains may take up to a couple of months, and disk injuries or herniations with radiculopathy can take up to 6 months for full recovery. Chronic pain beyond 6 months is likely associated with a degenerative process; the intervertebral disk, bone, or ligament, or from subtle mechanical instability caused by faulty posture or biomechanics.
Pain that increases with activity or within a few hours after activity, but settles down with rest or a change in position is commonly referred to as mechanical pain. Pain that persists or worsens despite rest and treatment, pain that persists around the clock, or pain that worsens at night raises suspicion for a metabolic or neoplastic condition or for psychosocial factors that prolong recovery. It's important, therefore, to inquire about recent fevers, weight loss, or history of carcinoma; the resulting information might suggest the expeditious use of appropriate lab tests and imaging. Questions about recent personal stresses, worker's compensation, or third-party liability cases may also provide useful information.
Location. It is essential to determine whether the pain is localized or radiating; therefore, knowledge of the anatomic region is essential. Localized pain generally points to muscle strains, ligament sprains, and facet or disk (degenerative) processes, although these structures commonly radiate pain to the periscapular or upper trapezius area as well (5,6). Pain that radiates into the upper limbs frequently stems from nerve involvement, although myofascial pain radiation patterns occur occasionally.
C-Spine Anatomy
The cervical spine is made up of seven vertebrae. C-1 articulates with the occiput of the skull above and with C-2 below. The atlanto-occipital joint primarily allows flexion and extension, while the atlanto-axial articulation primarily provides rotation. Vertebrae C-3 through C-7 allow for varying degrees of flexion, extension, lateral bending, and rotation. Flexion centers on C-5 and C-6 and extension on C-6 and C-7, which is why degenerative changes and spine injuries most commonly occur at these levels.
Intervertebral disks are found from C2-3 and below and are subjected to significant deformation during flexion and extension. Disk degeneration may be painful in its own right, while herniation can lead to compression of the nerve root (radiculopathy) or spinal cord (myelopathy.) Eight pairs of cervical spinal nerves exit bilaterally through the intervertebral foramina. Each spinal nerve is named for the vertebra above which it exits; for example, the C-6 nerve exits above the C-6 vertebra. Therefore, a herniated disk or significant foraminal narrowing at the C5-6 level will most commonly involve the C-6 nerve. The exception is the C-8 spinal nerve, which exits between the C-7 and T-1 vertebrae.
The posterior aspect of the cervical vertebral articulation contains the facet joints, which are true synovial joints, while a bony lip off the lateral margin of the upper vertebral body forms the uncovertebral joint with the vertebra below. Both joints are subject to degenerative changes that may produce pain with cervical extension combined with lateral bending and rotation. Hypertrophy of these joints may affect the surrounding anatomic structures, including the spinal cord, nerve roots, and exiting spinal nerves, as well as the vertebral artery and the sympathetic rami.
The muscles of the neck are divided into four major compartments: anterior (flexion), posterior (extension), and the lateral groups (lateral bending). The posterior muscles are the strongest group and most likely to be the source of pain in conditions resulting from poor posture, in which these muscles are chronically contracting to hold the head upright. The weaker anterior and lateral muscles are involved more in whiplash type injuries in which they stretch suddenly.
Upper cervical nerve injuries are relatively rare and refer dysesthetic pain to the head (C-1, C-2), the neck (C-3), and the upper trapezius region (C-4). The C-5 nerve transmits pain to the shoulder and lateral arm, and occasionally the radial forearm. The C-6 nerve pattern is very similar but invariably includes the radial forearm and thumb, and occasionally the index finger. The C-7 nerve refers pain to the posterior arm, dorsal (occasionally ventral) forearm, and the index and middle fingers. The C-8 nerve classically radiates pain to the medial arm, ulnar forearm, and the ring and little fingers.
Additionally, evidence indicates that the lower cervical nerve roots, disks, spinal longitudinal ligaments (5), and facet joints (6) refer pain to the scapular region. Along with myofascial pain trigger points or biomechanically induced muscle strains, these structures are the common origins of scapular and periscapular pain.
Other differential diagnostic considerations for referred pain include thoracic outlet syndrome and ulnar neuropathy, in which pain refers to the medial arm, forearm, and ring and little fingers, similar to a C-8 radiculopathy. Thoracic outlet syndrome typically will involve more proximal pain as well, such as in the axilla or scapula. Carpal tunnel syndrome characteristically causes dysesthesias in the thumb and first two fingers, and sometimes pain up the arm as high as the neck, thereby mimicking a C-6 or C-7 radiculopathy. Shoulder degenerative joint disease or acromioclavicular, subacromial, or rotator-cuff pathology may be confused with a C-5 radiculopathy.
Reflex sympathetic dystrophy is frequently associated with fractures or even minor trauma to the upper extremity. Pain from brachial plexus injuries or neuritis radiates to multiple dermatomes and myotomes in the arm and forearm, although patients characteristically have little neck pain. Finally, with the increasing incidence of cumulative trauma disorders related to the workplace, many "weekend warriors" complain of vague symptoms in their neck and upper extremities that they attribute to their sport but that actually result from overuse the other 5 days a week.
Characteristics. The quality or intensity of the pain may give clues to its origin. A muscle, ligament, or disk may give rise to sharp pain acutely, and more of a dull, aching sensation in the sub acute or chronic period. Pain of bone and joint origin may refer through the sensory portion of the motor nerves (sclerotome), and is described as a deep or boring pain. Electrical, numbing, tingling, or shooting sensations generally describe neurogenic pain, while throbbing sensations have been attributed to vascular causes.
In an acute injury, muscle guarding can occur as a protective mechanism, however, its long-term presence is usually the sign of a deeper pain generator (disk, bone, nerve root irritation.) The "spasm" is the muscle's attempt to stabilize the neck and prevent painful motion.
Aggravating and alleviating factors. Finally, asking about aggravating and alleviating factors can further define the pain generator. Combinations of flexion, extension, or lateral bending with rotation that cause localized neck pain may point to muscle, ligament, discogenic, and/or degenerative bone pain. Pain primarily with neck extension is frequently due to compression of the posterior elements, including the facet joints. If pain radiates into the upper limb, a nerve root is usually involved. In an athlete age 50 or older, foraminal stenosis is common; in the younger athlete a discogenic source is more likely. Relief of symptoms with cervical traction generally points to a discogenic or disk-space-narrowing process.
Recumbency usually alleviates mechanical pain, although nocturnal pain with dysesthesias in the arms or hands raises suspicion for thoracic outlet syndrome, carpal tunnel syndrome, or shoulder impingement. Morning pain and stiffness is often seen with osteoarthritis. Pain with overhead activities that radiates into the upper extremities may stem from thoracic outlet syndrome or shoulder impingement. Pain toward the end of the activity or end of the day is associated more with a degenerative process or chronic overuse syndrome. Relief usually comes from rest and preventative chiropractic care.
References for Neck Pain and Injuries
Have a great day,
Dr. Crysta Serné
Vancouver Chiropractor and owner of Vitality Clinic
Related Articles:
Care of Head, Neck, and Upper Back
Rehabilitation Neck Injuries
Upper Body Stretches
Stretches for Nursing Moms (or anyone else with stiff upper Back)
Mouse Placement
Sleeping Positions to Alleviate Neck Pain
Correcting Faulty Posture
Pillow Talk