How to Prevent Curling Injuries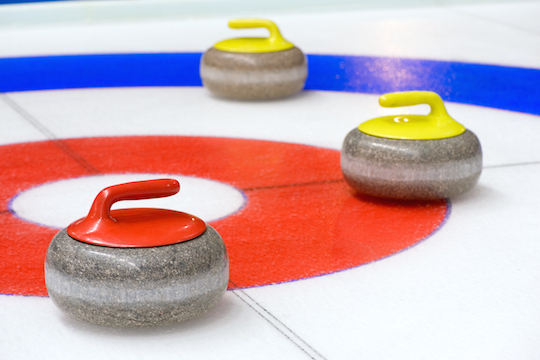 Although curling may be slightly less popular than ice hockey, it is a favourite among many Canadians, young and old. Curling is sometimes viewed as a sport that is also perhaps less strenuous than others but if you curl, whether as a part of a competitive league or just for fun, you know curling is a great source of exercise (especially in the winter months when walking or summer sports may be less desirable.)
Curling actually requires a significant amount of strength, flexibility, and core stability. Along with the physical demand comes mental acuity and motor control as you attempt to be accurate with the weight, distance, and spin of the rock. While throwing the rock, almost every joint in the body is under load, all this while demanding significant range of motion.
Therefore, the most common curling injuries are musculoskeletal in nature and most often affect the back, knees, and shoulder. These injuries are normally the result of movement involving stress on your joints due to the sweeping motion. This stress is really not surprising when you think about the fact that the stones are made of pure granite and can weigh upwards of 20kg.
Tips to avoid curling injuries:
1. Stretching. This can't be stressed enough. Heading out onto the rink thinking that the sport isn't difficult and, therefore, stretching isn't really necessary will cost you in the end.
A. Warm up your quads by placing your foot on a chair so your knee makes a right angle. Hang out there for 5 minutes while drinking your coffee and then repeat on the other side.
B. Stretch your shoulders by doing a cross the body arm pull. Hold for 45 seconds and repeat on the other side.

C. Stretch your forearms by applying light pressure to your hand when it is at 90 degrees to your arm.  
D. Stretch your lower back by bending over at the waist until you feel a stretch in your lower back and hamstrings- you should never feel a pinch or twinge!
2. Learn the proper technique. First-time curlers: this is for you! Watching a curling tournament on the television doesn't mean you know what you're doing. Make sure you get some guidance or head out with someone who can give you some specific points to help you form and refine your own stance and procedure.
3. Wear the right equipment. Jeans may be stylish but they don't belong on the rink. Wear comfortable clothing; something that allows your joints to move freely. And don't forget gloves!
If you've already curled and didn't realize how hard it can be on your body, we can help! There's no need to suffer through pain if you're already dealing with a curling injury.
Consider having an assessment with one of our clinic Chiropractor's to get your body straightened out! A chiropractor can help adjust and manipulate misaligned joints that are contributing to pain and bring you relief.
Have fun on the rink,
Dr. Crysta Serné
Vancouver Chiropractor and owner of Vitality Clinic