Proprioceptive Neuromuscular Facilitation (PNF) Stretches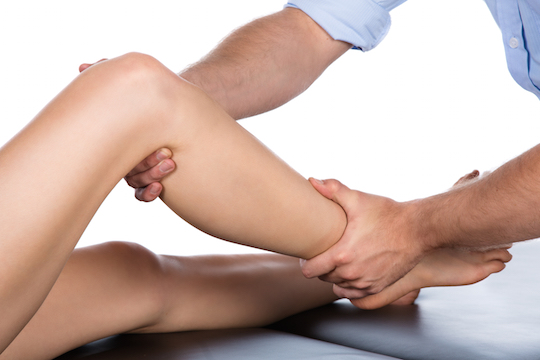 Proprioceptive Neuromuscular Facilitation (PNF) is a more advanced form of flexibility training that involves both the stretching and contraction of the muscle group being targeted. PNF stretching was originally developed as a form of rehabilitation, and to that effect it is very effective. It is also excellent for targeting specific muscle groups, and as well as increasing flexibility (and range of movement), it also improves muscular strength.
Warning!
Certain precautions need to be taken when performing PNF stretches as they can put added stress on the targeted muscle group, which can increase the risk of soft tissue injury. To help reduce this risk, it is important to include a conditioning phase before a maximum, or intense effort is used.
In addition, prior to initiating any form of stretching, it is vitally important that a thorough warm up be completed. Warming up prior to stretching has benefits but its primary purpose is to prepare the body and mind for more strenuous activity. One of the ways it achieves this is by helping to increase the body's core temperature while also increasing the body's muscle temperature. This is essential to ensure the maximum benefit is gained from your stretching.
How To Perform A PNF Stretch
The process of performing a PNF stretch involves the following. The muscle group to be stretched is positioned so that the muscles are stretched and under tension. The individual then contracts the stretched muscle group for 5-6 seconds while a partner, or immovable object, applies sufficient resistance to inhibit movement. Please note; the effort of contraction should be relevant to the level of conditioning.
The contracted muscle group is then relaxed and a controlled stretch is applied for about 20 seconds. The muscle group is then allowed 30 seconds to recover and the process is repeated 2 – 4 times.
Information differs slightly about timing recommendations for PNF stretching depending on who you are talking to. Although there are conflicting responses to the question of "how long should I contract the muscle group for?" and "how long should I rest for between each stretch?", I believe (through a study of research literature and personal experience) that the above timing recommendations provide the maximum benefits from PNF stretching.
Stretching is one of the most under-utilized techniques for improving athletic performance, preventing sports injury, and properly rehabilitating sprain and strain injuries. Don't make the mistake of thinking that something as simple as stretching won't be effective.
Have a great day,
Dr. Crysta Serné
Vancouver Chiropractor and owner of Vitality Clinic