Points to Consider When Choosing a New Mattress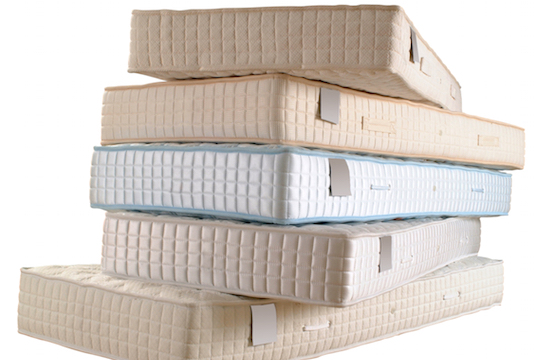 So you're thinking about purchasing a new mattress, but you are wondering about which one is best suited for you. This is a topic of conversation I have on an almost daily basis with my chiropractic patients. I don't claim to be the expert on mattresses, but I do know a lot about backs and back health.
Here are a few things to consider:
1. Mattresses should be replaced every 8-10 years.
2. Size- Deciding to go with a Queen or King sized mattress can mean the difference of a few hundred dollars so it is an important decision. If you are a tall individual, a King is a must as you need to ensure your legs don't hang off the end of the bed! You don't want to always have to resort to sleeping on the diagonal. 🙂 Do you share your bed with a loved one… including your furry friends? If so, the extra room may be necessary.
3. Firmness– For the majority of my chiropractic patients, I advocate a semi-firm mattress; it's the half way point between medium and hard. Far too often mattress are purchased too soft because they initially feel more comfortable. Unfortunately, they often don't have the coil count to support the weight necessary, especially if there is more than one of you in the bed.
4. Coil count– most semi firm mattress have a coil count between 800-1000.
5. Pillow Topper– PLEASE do not purchase a mattress with a pillow topper attached! This will SIGNIFICANTLY reduce the life span of the mattress as the material will break down over the years due to different pressure points of your body. Your hips and pelvis region are heavier than your legs and your head and shoulders are heavier than your chest so the pillow topper will start to form this shape. You end up with lumps, bumps, or rolls. If you purchase a mattress you feel is a bit too firm, consider buying a pillow topper as an add-on. The second point to consider is if you purchase a mattress with a pillow topper attached, you forfeit the ability to flip your mattress. Rotating and flipping your mattress periodically is essential for maintaining it's life span.
6. Comfort-  All things considered, you still need to make sure you receive a decent night's sleep! If a mattress hits all the points listed above and felt super comfortable in the store but you are constantly tossing and turning (even after the appropriate break in time), you may need to choose a different mattress. Most stores realize you aren't going to be able to determine whether the mattress is truly the right one for you by lying on it for 15 minutes in the store so most have a great exchange policy.  However, be sure but to check with the store on their particular exchange/return policy prior to making this investment.
7. Pillows– choosing a pillow is equally as important as the mattress yourself. I've recommended the same pillow for 14 years as I feel it is the best on the market. Why you ask? It is the only pillow I have found that provides the perfect amount of support and it allows you to sleep both on your side and on your back.
I can't stress enough how important a good mattress (along with maintenance chiropractic care 🙂 ) is to help maintain a healthy back!
Have a great day,
Dr. Crysta Serné
Vancouver Chiropractor and owner of Vitality Clinic
Related articles:
Sleeping Position
Sleeping Position for Neck Pain
A, B, and Zzzz's of Sleep
Sleep Hygiene