Pesto Salmon with Quinoa Salad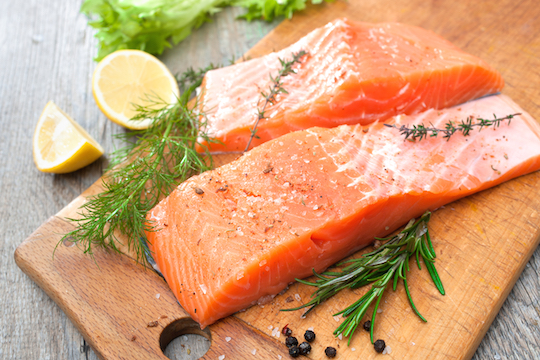 Another great salmon recipe sure to fill you up! Packed with protein, healthy fats (EPA), and rich in iron, this is a healthy and delicious meal. Vegetarian? No problem! Omit the salmon and you still have a complete meal packed with protein!
Ingredients
1 ½ c quinoa, uncooked
3 c chicken or vegetable stock
½ tsp salt, divided
⅓ tsp pepper, divided
¼ c lemon juice
3 Tbs lemon zest
2 cloves, minced
1 Tbs Dijon mustard
1 tsp honey or Agave syrup
⅓ c extra virgin olive oil (EVOO)
1 ½ c chickpeas, drained
4 c baby spinach
3 Tbs butter
3 Tbs pesto
6 salmon fillets
Preparation
1. Preheat oven to 400 degrees F
2. Combine quinoa, stock, and salt in medium saucepan. Bring to a boil, and then reduce heat to low and cover. Stir occasionally to ensure it's not sticking to bottom of pan. Cook until all the liquid has been absorbed and then fluff with a fork and let cool.
3. In a small bowl whisk together lemon juice, zest, garlic, mustard, and honey. Slowly whisk in EVOO.
4. Mix the dressing with the quinoa. Add the chickpeas and spinach. Season with salt and pepper.
5. Combine butter and pesto together in a small bowl.
6. Place salmon fillets on cookie sheet lined with parchment paper or aluminum foil. Season fillets with salt and pepper. Spread pesto mixture on each fillet and bake for 10-12 minutes.
Serves 6
Enjoy,
Dr. Crysta Serné
Vancouver Chiropractor and owner of Vitality Clinic
Related Articles:
Steamed Salmon and Asparagus
Salmon Patties
Quinoa and Tomato Salad
Broccoli Quinoa Bites
Quinoa Pizza Bites
Kale, Sweet Potato, and Quinoa Salad