Myofascial Release Technique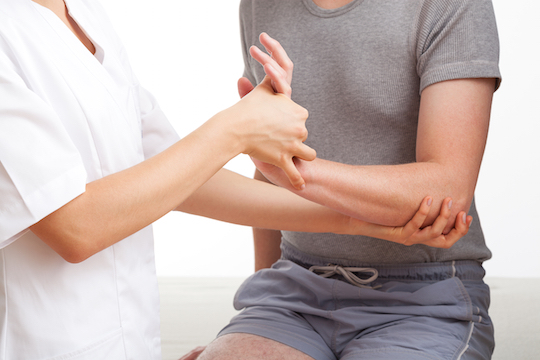 Myofascia is a strong and flexible network of connective tissue that surrounds, cushions, and supports muscles, bones, and organs – right down to the cellular level. Functionally, it forms a continuous web from head to toe.
Fascial restrictions can result from accidents, injuries, repetitive stress situations, surgical or traumatic scarring, and abnormal postures. When these injuries occur, the muscle fibers and the fascia which surrounds it become short and tight. This uneven stress can be transmitted through the fascia to other parts of the body, causing pain and a variety of other symptoms in areas you often wouldn't expect.
Let's use an analogy: imagine you are wearing a tight t-shirt and someone was to grab that t-shirt over your shoulder, then twist it up. One can easily see how the t-shirt would get tight, but you would still be able to move the arm. This is a primitive example of what happens with facial restriction. Myofascial Release Technique (MRT) is essentially the process that removes that bound up tissue/t-shirt.
Myofascial Release Technique is the three-dimensional application of sustained pressure and movement into the fascial system in order to eliminate restrictions. It refers to a manual muscle technique both our Chiropractors and Registered Massage Therapists may incorporate into your treatment plan. This technique requires stretching the fascia and releasing bonds between fascia, integument, muscles, and joints – with the goal of eliminating pain, improving posture, and increasing your range of motion.
MRT is an effective therapeutic approach in the relief of cervical pain, back pain, headaches, shoulder injuries, arthritic conditions, sports injuries, fibromyalgia, restriction of motion, and many more conditions. There is even a specific technique called skin rolling which can reduce the effect of cellulite!
What does a Myofascial Release Technique treatment feel like?
The pressure can range from very gentle touch to much deeper pressure. However, the pressure should never be beyond one's tolerance level and it is therefore very important to give feedback to your practitioner during the treatment. Some people may experience a slight tingling or burning sensation in the skin (this is completely normal and safe). Others may feel a gentle to deep stretch on the area being treated. It can, at times, be quite intense, especially in the case of tissue that is holding a lot of tension and stress. It is normal for individuals to experience slight stiffness and soreness post treatment – usually that vanishes within a couple of days.
MRT is most effective in combination with chiropractic adjustments to the joints involved, whether it be spinal or extremity (ankle, shoulder, wrist, etc). Because each individual is different, the number of treatments required may vary, however a general rule is that you should notice a change in your condition within the first three treatments. Your practitioner will discuss your treatment plan and projected outcome with you during your initial session.
To conclude, MRT, often in conjunction with joint corrections, is a very effective treatment program and can significantly improve many soft tissue and orthopeadic conditions. To see if MRT is right for you, please contact the clinic @ 604.687.7678 to book an appointment.
Have a great day,
Dr. Crysta Serné
Vancouver Chiropractor and owner of Vitality Clinic