Homemade Almond (Nut) Milk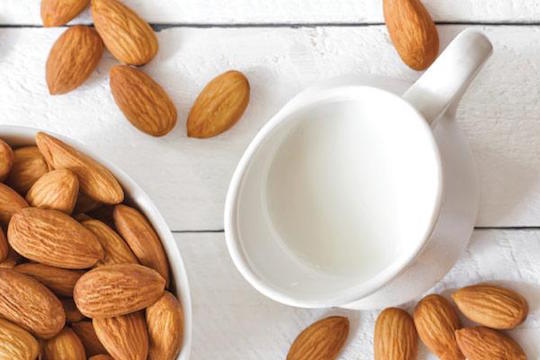 Have you asked the question, how many almonds are actually in carton of almond milk? It has been reported by industry insiders that in a 2 L carton of almond milk contains less than a handful of almonds. An analysis of one brand showed that almonds make up 2% of the total drink. What are we paying for when purchasing mass produced almond milk? Sounds like a few almonds, water, sugar, and vitamins added to make up for the lack of protein from the nuts that are supposedly the main ingredient of the milk. A standard serving of almonds has 6 grams of protein and 14 grams of healthy fats. In comparison, a cup of almond milk has 1 gram of protein and 2.5 grams of healthy fats. We get why almond milk is popular: it's convenient, lactose intolerant friendly, vegan friendly, and it tastes good. But overall, it's almost to the point of paying for white coloured sugar water. What do we do about it? Find almond milk at a local farmers market or natural grocery store, or, try to make a small batch at home to compare. Below is a fairly simple recipe based off of a post by Angela at ohsheglows.com:
Ingredients
1 cup raw almonds, soaked in water overnight or up to 2 days
4 cups of water
1 tbsp of honey or maple syrup
1 tsp of vanilla extract (optional)
Preparation
1. Soak almonds in a bowl and cover with about an inch of water overnight. 3-6 hours should be okay.
2. Drain and rinse. The almonds should feel a bit soft when pinched.
3. Combine almonds with 4 cups of water and blend for about 1 minute.
4. Place a nut milk bag over a bowl and slowly pour the almond milk mixture into the bag; squeeze the bag to release the milk for another few minutes.
5. Rinse out the blender and put the filtered almond milk mixture back in, add sweetner and vanilla and blend to combine.
6. Put in a jar in the fridge and enjoy for 2 to 4 days.
Enjoy the almond milk with cereal, oatmeal, smoothies, tea! My favourite is with gluten free granola and fresh fruit.
Enjoy!
Dr. Lucas Tisshaw
Vancouver Chiropractor and ART Provider