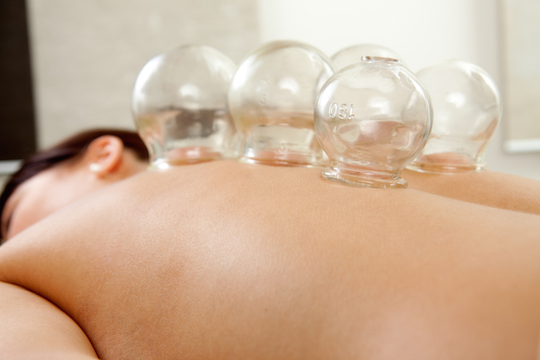 Detox your body and your mind simultaneously with cupping therapy and ear acupuncture as they are both considered detoxification treatments.
The benefits include:
– Improved energy flow throughout the body.
– Relief of muscle pain and improved circulation.
– Relaxes and re-energizes the mind.
In Acupuncture and Traditional Chinese Medicine (TCM) theory, all the body systems are represented on either side of the spine, as well as the gall bladder and small intestine channels.  Therefore, cupping therapy on the back is done along the muscle lines. This therapy assists in the detoxification process by increasing circulation of blood, fluids, and vital energy known as Qi. Each organ system is stimulated by the suction of the cups along the skin surface to release and let go of stagnation brought about by our summer indulgences of food, alcohol, and lack of sleep. The lungs are stimulated to release congestion and allow for more open breathing. In fact, cupping is a great way to speed the recovery of the end of summer common cold.
The whole body is represented on the ears.  Using ear acupuncture to work closely with the cupping therapy is an additional boost of stimulation for the body to release and eliminate stagnation. Ear acupuncture has the added effect of relaxing and re-energizing the mind. The detox protocol is practiced all around the world following human tragedies such as hurricanes, floods, fire, and other trauma.
Ear acupuncture treatments provide a rebalancing of the sympathetic nervous system and calming the mind by reducing stress hormone release into the blood. It has a strong relaxant effect on the internal organs by dilating the blood vessels to further aid in the cleansing process. Having regular ear acupuncture treatments is known to relieve anxiety, depression, insomnia, and excessive sensitivity.
If you would like to book an appointment, please call the clinic.
Have a great day,
Julianne Petersen
Registered Acupuncturist