Coconut and Avocado Grasshopper Bars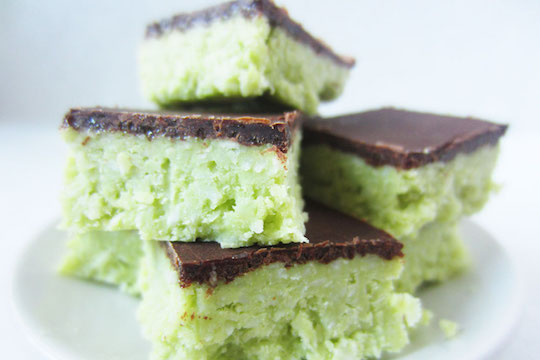 Try this healthy no bake bar; it's free of grain, gluten, eggs, dairy, and refined sugar.
Benefits of eating avocados:
-Avocados are very nutritious.
-Contain more potassium than bananas.
-Heart healthy mono-unsaturated fatty acids.
-Loaded with fiber and antioxidants.
-Eating avocados can lower cholesterol and triglyceride levels.
Ingredients
Mint Layer
・1 Hass avocado
・1/4 c. honey
・6 T. coconut oil, melted
・1 1/2 c. shredded Medium unsweetened coconut
・3/8 t. peppermint
・dash of salt
Chocolate Layer
・1/4 c. coconut oil
・2 T. honey
・1/4 c. cocoa powder
・1/4 t. vanilla extract
・dash of salt
Preparation
Mint Layer
1. Line a 9×9 inch baking dish lined with foil.
2. Place all ingredients in high powered blender (such as a Blendtec or Vitamix) or a food processor.
3. Blend until smooth. (You can puree it if you want, but I like mine to have little flecks of coconut still.)
4. Smooth mixture into prepared dish and stick in the freezer.
Chocolate Layer
1. In small saucepan, melt coconut oil, and honey over low heat.
2. Remove from heat and stir in remaining ingredients.
3. Pour over chilled bottom layer and return to the freezer for about 15 minutes, or until the chocolate layer is hardened.
3. Remove from foil and cut into bars.
Store covered in the freezer.
Enjoy,
Julianne Petersen
Vancouver Registered Acupuncturist