Steamed Salmon and Asparagus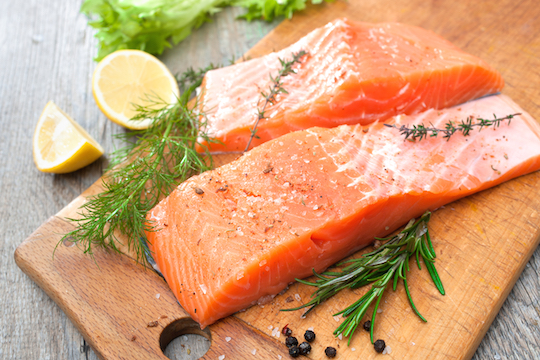 With the weather as hot has it's been lately, the last thing you may want to do is turn on the oven. Barbecuing is great but you may want a break from it as well, so this salmon recipe offers the perfect solution.
Ingredients
1-1/2 lb salmon filet, skin and bones removed and cut into 4
pieces
1 + 1 Tbs fresh lemon juice
2 bunches asparagus, bottom fourth removed
1 Tbs extra virgin olive oil
salt and white pepper to taste
Mustard Dill Sauce
4 oz silken tofu
1 Tbs prepared mustard such as Dijon
4 Tbs fresh dill chopped
1 Tbs honey
2 Tbs fresh lemon juice
1/2 cup water
1/4 tsp salt
1/4 tsp white pepper
2 Tbs extra virgin olive oil
Preparation
1.Bring 2 inches of lightly salted water to a boil in a steamer with
a tight fitting lid.
2. While water is coming to a boil, put all sauce ingredients except
olive oil in a blender and begin to blend on high speed for about one
minute. While blender is running, drizzle olive oil in a little at a time.
Set aside.
3. Snap off tough asparagus ends. When water is at a full boil place
asparagus in steamer basket, cover, and cook until asparagus is tender,
about 3-5 minutes, depending on thickness. Remove from steamer, toss with
1 Tbs lemon juice, 1 Tbs olive oil, salt and pepper.
4. Rub salmon with 1 Tbs lemon juice and season with a little salt
and pepper.
5. Place salmon in the same steamer basket and steam until pink
inside, about 3-4 minutes. Place salmon on a plate and pour desired amount
of sauce over it and the asparagus.
Serves 4
Enjoy,
Dr. Crysta Serné
Vancouver Chiropractor and owner of Vitality Clinic